Orderpicking systems
For more information, a price check or a quotation...
Ask here for more information!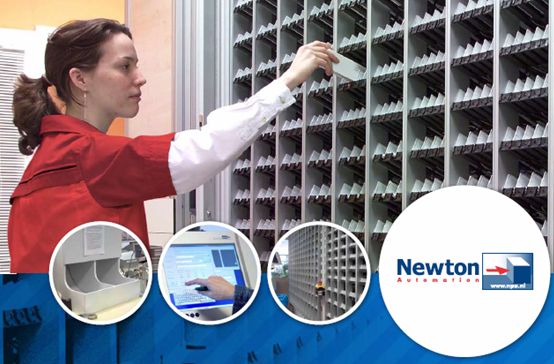 The benefits of RoboDistri picking systems are speed, reliability, quality, simplicity, compactness, optimal inventory management and security.
Speed
RoboDistri picking systems dispense approximately 3 per products per second per module. The filling is done manually and one person fills approximately 1000 packages per hour. The belt conveyors have a transport speed of approximately 2 meter per second.
Your entire order is dispensed and distributed within a few seconds. Normally any order is collected automatically within 8 seconds.
Reliability
Picking errors may not arise, especially not at peak times. Through extensive use of this technology at pharmacies, hospitals and wholesalers, where thousands of products are dispensed each day, the robots are developed to extremely reliable systems.
More than one hundred RoboDistri systems are already installed and have an average downtime of machine of only 2 hours per year. Effectively this means an availability of 99.9%!
Quality
The process aims to ensure quality. With a final checkpoint, the barcode of the products can be scanned, the delivery can be compared with the order and product labels and / or packaging can be provided.
Software control ensures the delivery of the right products to the right customer. With camera control you are able to find exactly which products are supplied under which order. RoboDistri offers a process with proven quality, already widely used in various industries including the issuing of drugs and cosmetics.
Simplicity
RoboDistri strives for simplicity and usability. This can be seen in the applied lay outs, the software, but also in different channel modules. That makes the systems easy to use and understandable for the people that work with it.
Users can use the potential of the system well. Thanks to the modular construction system, RoboDistri systems are easy to expand, if you want to increase the storage capacity. The initial investment can be limited and you have the assurance that a future expansion is always a possibility.
Compact and versatility
The system has a high stock density per m3, so you can store many products. RoboDistri systems can be placed well in a basement, on a higher floor or a poorly accessible part of your property. Enjoy the optimal exploitation of the property and make former unusable space usable.
Optimal inventory management
With optimal inventory management as a result of our software, stock levels become more manageable. The RoboDistri orderpick system is extremely flexible and comfortable with assortment changes. For example, you can quickly and easily add a new product or an existing product to provide a different or extra location.
Security
RoboDistri is a closed and secure system and only registered staff have access.
Unwanted loss of stock is limited...